IIoT
Ewave Mobile carries out innovative IoT projects, especially industrial ones (Industrial Internet of Things – IIoT).
IoT is a fast-developing field that integrates wireless communications, Big Data and artificial intelligence (AI) to make the machines "smarter", using sensors that allow data to be collected, analyzed, and acted upon in real-time.
We believe that this fourth industrial revolution promises a more intelligent and cognitive supply chain, and requires a service provider that brings deep knowledge and expertise in both business processes and technologies. We specialize in asset management, facility management, retail and other vertical IoT solutions.
Ewave Mobile has leveraged its software and hardware expertise to develop logistics and manufacturing IIoT solutions that merge sensors and RFID solutions for efficient control and operation of various industrial machines and devices.
We offer customers extensive IoT-related services such as IoT platform consulting, hardware implementation and maintenance, custom software development and full integration with the corporate operational systems.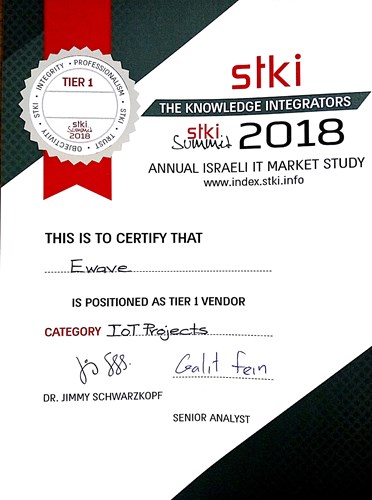 Ewave Mobile was certified by STKI, the prominent market research and strategic analyst firm in Israel, as a leading IoT projects company.